Clarity™ ADVANCED Ceramic Brackets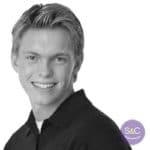 Imagine, no more hiding behind closed-lip smiles. Clarity ADVANCED Ceramic Braces give you the confidence you need to flash an amazing smile, both during treatment and after. The translucent ceramic material blends with the color of your teeth and will resist staining or discoloration throughout your treatment. And with its small, low-profile design, Clarity ADVANCED Braces are virtually unnoticeable, making them perfect for patients of any age who are looking for the confidence and the freedom to smile on any occasion. Take control of your smile and let you be you with Clarity ADVANCED Braces.
A revolutionary leap forward in orthodontic ceramic brackets.
These ultra-small translucent brackets are made of an innovative, ceramic material that gives an attractive appearance.
Clarity ADVANCED Ceramic Brackets offer trusted strength in small size and the lowest available profiles.
A remarkably small bracket also minimizes soft tissue contact and showcases an attractive look that can turn the most self-conscious, tight-lipped patient into someone beaming with pride.
Designed to blend with your natural tooth color, they will resist staining and discoloration over the course of treatment.